The Queensland Government is now in caretaker mode until after the state election. Minimal updates will be made to this site until after the election results are declared.
Harris mud crab
Alert
Have you seen Harris mud crab?
Be on the lookout for Harris mud crab and report it to Biosecurity Queensland. Early detection helps protect Queensland's natural marine environment, the businesses that rely upon it and our way of life.
Call us on 13 25 23.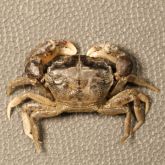 © Melissa Frey, Queensland Government
Harris mud crab is an invasive and prohibited marine pest not found in Queensland waters. They can be introduced via ship's ballast water, as biofouling on boat hulls and through internal seawater systems.
Adult shells can grow 10–20mm wide with 4 blunt spines on each side. They are a prolific fouler and can out-compete native species. It is illegal to import, or in any way deal with Harris mud crab. They can form dense groups and are highly successful invaders having established in 20 countries.
You must report any suspected sightings to Biosecurity Queensland.
Scientific name
Rhithropanopeus harrisii
Description
Greenish-brown to olive green with white tipped claws that are unequal in size.
Shell has four blunt spines on each side.
Shell is 10–20mm wide.
Habitat
Prefers sandy and muddy substrates with a sheltered structure.
Lives in subtidal estuaries in areas with low salinity.
Can tolerate a wide range of temperatures and salinities.
Distribution
Not found in Queensland waters. The Harris mud crab is native to the Atlantic coast of the Americas from New Brunswick to northeast Brazil.
Life cycle
Larval development takes place under a broad range of environmental conditions and the life cycle can be completed in freshwater.
Impacts
Environmental
Alters food webs and displaces native crabs, crayfish and bottom-dwelling fish.
Decays vegetation, oyster reefs and shells.
Carrier of prawn and crab diseases.
Economic
Can form dense groups, and clog water intake pipes and power plant cooling systems.
Spoils fish caught in gill nets.
Social
Can negatively affect the visual amenity and our way of life. Marine pests can:

lead to depleted fish stocks
lead to boating and fishing restrictions in affected areas
impact significantly on the marine industry that many people rely on for employment and recreational purposes.
Control
Look. Report. Protect.
Marine biosecurity – everyone plays a part.
Clean your boat regularly.
Check for marine pests on structures and surrounds.
Report any suspected marine pests.
Slipway operators, vessel inspectors and vessel owners should regularly and thoroughly check and clean vessel hulls looking out for pests or growth. Pay particular attention to the nooks and crannies of your vessel including internal seawater systems.
Inspect, clean and dry equipment and gear before moving to a different location. This includes pots, nets, fishing or diving gear, anchors and ropes.
If you think you have seen Harris mud crab, report it immediately to Biosecurity Queensland on 13 25 23. Until an authorised officer contacts you, please take reasonable and practical steps to prevent it from spreading.
Legal requirements
Harris mud crab is a prohibited invasive animal under the Biosecurity Act 2014.
Report any suspected sightings to Biosecurity Queensland on 13 25 23 immediately.
Biosecurity is a shared responsibility and by law everyone has a general biosecurity obligation (GBO) to take all reasonable and practical steps to avoid introduction or spread of marine pests.
Further information
Last reviewed: 28 May 2019

Last updated: 28 May 2019