Japanese seaweed
Alert
Have you seen Japanese seaweed ?
Be on the lookout for Japanese seaweed and report it to Biosecurity Queensland. Early detection helps protect Queensland's natural marine environment, the businesses that rely upon it and our way of life.
Call us on 13 25 23.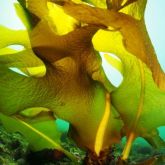 Japanese seaweed is an invasive and prohibited marine pest not found in Queensland waters. They can be introduced via ship's ballast water, as biofouling on boat hulls and through internal seawater systems.
They have smooth thin, golden-brown blades and can grow up to 1m long (rarely to 3m). Japanese seaweed grows rapidly on any available space and can form dense beds on sheltered reefs.
You must report any suspected sightings to Biosecurity Queensland.
Scientific name
Undaria pinnatifida
Description
Conspicuous midrib along length of blade.
Spore-bearing ruffle near base of mature plant.
Claw-like attachment holdfast.
Mature plants present only from early winter to mid-summer.
Habitat
Temperate coastal waters.
Lower intertidal to 20m depth.
Attaches to rocks, reefs and stones.
Distribution
Wakame has been found in Tasmania and in Victoria. It is not known to exist in Queensland.
Affected animals
Native aquatic animals and habitats
Impacts
Environmental
Can form dense forests at depths of up to 15m and can quickly displace native habitats.
Economic
Fouls vessels, artificial structures and aquaculture equipment
Social
Can negatively affect the visual amenity and our way of life. Marine pests can:

lead to depleted fish stocks
lead to boating and fishing restrictions in affected areas
impact significantly on the marine industry that many people rely on for employment and recreational purposes
Control
Look. Report. Protect
Marine biosecurity – everyone plays a part.
Clean your boat regularly
Check for marine pests on structures and surrounds
Report any suspected marine pests
Slipway operators, vessel inspectors and vessel owners should regularly and thoroughly check and clean vessel hulls looking out for pests or growth. Pay particular attention to the nooks and crannies of your vessel including internal seawater systems.
Inspect, clean and dry equipment and gear before moving to a different location. This includes pots, nets, fishing or diving gear, anchors and ropes.
If you think you have seen Japanese seaweed , report it immediately to Biosecurity Queensland on 13 25 23. Until an authorised officer contacts you, please take reasonable and practical steps to prevent it from spreading.
Legal requirements
Japanese seaweed is a prohibited invasive animal under the Biosecurity Act 2014.
Report any suspected sightings to Biosecurity Queensland on 13 25 23 immediately.
Biosecurity is a shared responsibility and by law everyone has a general biosecurity obligation (GBO) to take all reasonable and practical steps to avoid introduction or spread of marine pests.
Further information
Last reviewed: 28 May 2019

Last updated: 28 May 2019