Wingless cockroach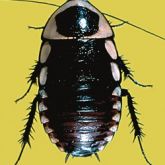 © D. Ironside Queensland Government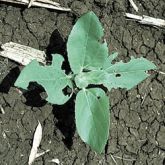 Most Australian cockroaches are found in native habitats and are not pests of crops. Calolampra spp. has been reported as a pest of seedlings in Central Queensland.
Scientific name
Calolampra elegans

and

C. solida
Other names
Native Australian black cockroach
Description
Adults of C. elegans are 25-35mm long and shiny brown with yellow stripes and margins.
C. solida males are fully winged, females are wingless.
Nymphs are initially greyish-brown or tan, developing yellow markings when about half adult size.
May be confused with
House or American cockroach (Periplaneta americana).
Other native woodland cockroaches.
Distribution and habitat
Native to Australia. Recorded as irregular pests in Queensland's Central Highlands.
Wingless cockroach populations reach highest densities under no tillage with stubble retained.
Other native cockroaches that have been recorded as minor pests include Cosmozosteria sp. and Platyzosteria sp.
Hosts
Seedlings of all field crops.
Damage
Small seedlings: feeds on cotyledons and stems, often severing the stem.
Larger seedlings: feeds on the leaves and growing points.
Life cycle
Wingless cockroaches are nocturnal, feeding at night and sheltering by day under trash.
Monitoring and thresholds
Use germinating seed baits pre-plant to assess soil pest presence. Take action if 1 or more cockroaches are found per 2 baits.
Natural enemies
No effective natural enemies have been identified.
Control
Baiting with insecticide-treated cracked grain baits.
If the field has a history of cockroach damage, cultivation and/or destruction of stubble may help reduce populations.
Further information
Last reviewed: 14 Jan 2020

Last updated: 14 Mar 2019