Step 4 – Make change happen
On this page
Turn on this option to focus on essential topics and actions in this step and hide optional parts.
It's time to put your plans into action.
Review your outcomes from the activities you've completed and start to work out the actions you'll take. Use our list of suggested resources to help start implementing your change plans.
Change readiness plan
You can now create your change readiness plan. The plan captures the work you've completed across the 3 steps of your change journey so far.
Update your plan as your business identifies and makes changes. This will ensure it's always relevant and focused on the outcomes you want.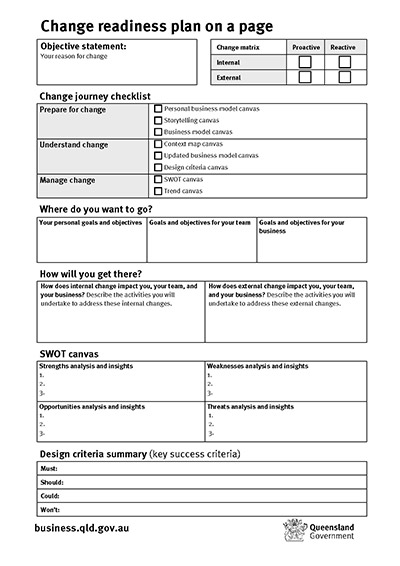 Complete your change readiness plan
The change readiness plan will help you put all your outcomes in a single document to help you start taking action.
Download the change readiness plan template.
Change checklist
Review which tools and activities you've completed in your change journey so far.
Optional

Optional

Essential

Essential

Essential

Optional

Essential

Optional

Optional

Optional
Start taking action
Essential
Use the insights you've gained from the planning tools and start adapting and changing your business.
Treat your completed templates as living documents – update them regularly as your business changes and grows. Look out for emerging external trends and new opportunities and threats. By doing this, your business will be better positioned for success and you'll be primed to take action when you need.
Resources to support your change actions
Find information and support to help you start making changes to your business operations.
Last reviewed: 25 Oct 2021

Last updated: 11 May 2022