Developing water plans
Stages of the development process
The development process generally includes the following stages:
technical assessments (environmental, economic, social, hydrologic and cultural data)
preliminary stakeholder consultation
preparation of a draft water plan
publication of draft plan and opportunity for public submissions
consideration of submissions
finalisation and approval of water plan.
Technical assessments
Science underpins the development of water plans. These technical assessments include:
environmental assessments: ecological modelling using data collected on the flow requirements of ecosystems
hydrologic assessments: models which draw on over 100 years of recorded flow data
social, economic and cultural assessments: identification of water related social, economic and cultural values.
Water plans consider both historical rainfall and run-off information and this helps us better understand and manage risks to water security, communities, and the environment. Strategies for managing climate-related risks may be included in water plans.
Collectively the assessments are important in determining the amount and type of water available so the water can be shared sustainably.
Community input
We consult with a range of interested people including:
regional communities
Aboriginal and Torres Strait Islander groups
conservation groups
industry
local government.
You should check your water plan area for any upcoming consultation.
Aboriginal peoples and Torres Strait Islander peoples
From October 2018, new or replacement water plans will explicitly recognise the importance of water resources for Aboriginal peoples and Torres Strait Islander peoples.
Cultural outcomes will be stated separately instead of being embedded in social, economic or environmental outcomes, and water plans will need to include strategies for their achievement, monitoring and reporting.
How water is made available
The available water can be granted through water licences and tradeable water allocations. A certain amount of water is reserved as unallocated water.
The diagram below shows the overall proportions of this water across the state.
Water across the state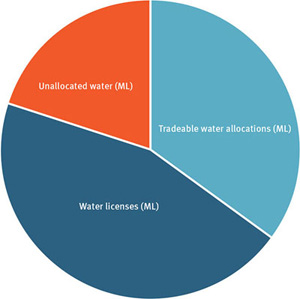 Also consider...
Last reviewed: 1 Jul 2022

Last updated: 16 Nov 2020