Packaging of drill core and drill cuttings for delivery to the core collection
Read the following instructions before submitting drill samples to any of our drill core facilities.
Notification and offer of samples
Find out about our requirement for notification and offer of core and cuttings samples prior to lodgement.
Contact the Geological Survey of Queensland (GSQ) before delivery of any materials to the drill core facility to make the delivery arrangements. Email Exploration.DataCentre@resources.qld.gov.au.
Drill samples must be delivered at the tenure holder's expense to the core storage library nominated by GSQ.
Drill core
Follow these guidelines to submit your drill core samples.
Deliver drill core in standard commercial trays, in good and safe condition (figure A).
Use an appropriately marked wooden block (or equivalent) to indicate the start and end of holes where more than 1 hole is placed in a tray (figure A).
Use stackable plastic drill core trays where possible (figure A).
Label all trays on the end of each tray (figure B).
Paint white the starting end of the tray and label clearly using a black marker (figure B).
Stack and strap trays in depth sequence on standard commercial hardwood pallets (figure C).
Indicate orientation of the core by insertion of depth marker, arrows of tray margin or other appropriate means.

Figure A. Drill hole tray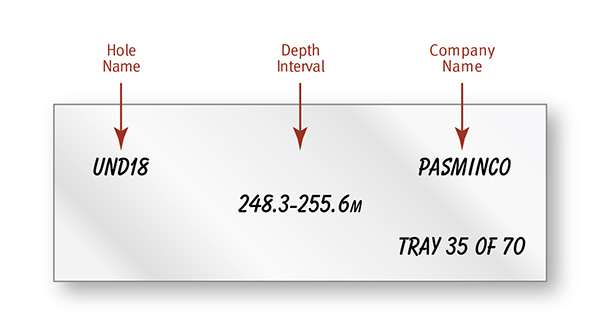 Figure B. Tray labelling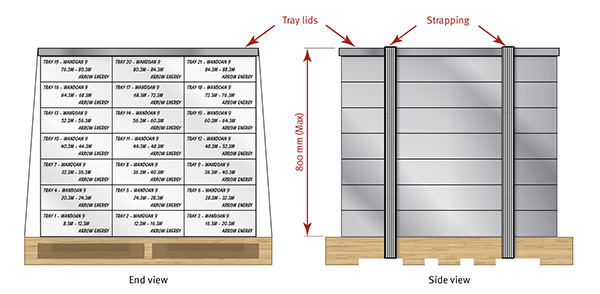 Figure C. Pallet layout
Pallet and packaging criteria
All material delivered to a core facility should be transported on a pallet and packaged according to the criteria listed below.
Use standard hardwood pallets for storage, with the dimensions of 1165mm x 1165mm x 150mm (i.e. Australian Standard AS 4068), and in good condition.
Do not use hire pallets.
Package samples and/or cuttings in boxes, crates or core trays, with the height of these containers on the pallet (either unstacked or stacked) to be less than 900mm.
Package all drill core in standard plastic and/or metal core trays, with the height of these containers (including pallet) to be less than 900mm, and in good condition.
Stack plastic drill core trays side by side and one on top of the other.
Cross stack sheet metal trays. Rotate every second row of trays 90°.
Add lids on the top trays to prevent loss or damage to samples during transport.
Arrange trays in sequential order.
Place more than one hole on a pallet (if practical).
Double strap pallets to secure the load.
Plastic wrap pallets for transport.
Drill cuttings
Follow these guidelines to submit your drill cuttings samples.
Supply at least 250 grams for each representative sample.
Wash and dry samples before packing.
Contain representative samples within 1 of the following:

stand-up foil pouch (100mm x 170mm and 99µm thick)
heavy duty, clear end seal type plastic bags (165mm x 205mm and >150µm thick)
approved plastic vials (e.g. 250ml size)

Plastic chip trays are acceptable if this represents the only sample material available.
Label and seal sample bags or vials. Refer to figure D and figure E for an example of required details on labelling sample bags and vials.
Label using a black permanent marker and include hole/sample name/number, and interval in metres (figure D).
Label plastic bags with an aluminium tag (75mm x 25mm) stapled to the top of the bag (figure D).
Supply samples in approved trays as explained above (figure A and figure B).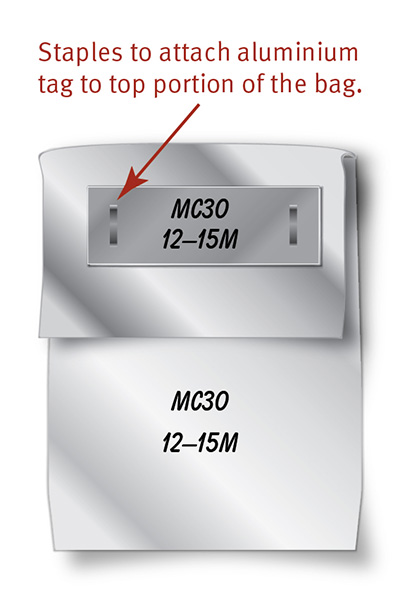 Figure D. Labelling of bags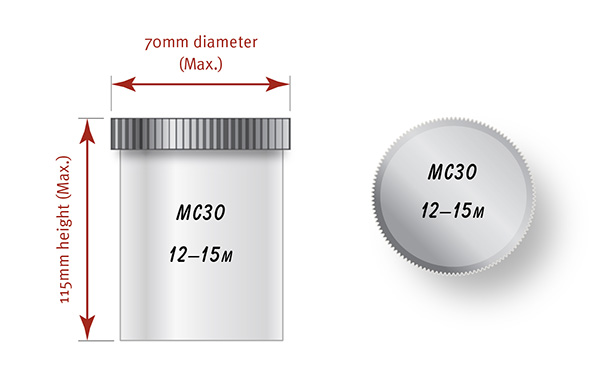 Figure E. Labelling of vials
Delivery of samples
All deliveries must be accompanied by the correct resource specific borehole sample submission form. Send your shipment to the nominated core library.
Materials Safety Data Sheets (MSDS)
Where applicable, supply Materials Safety Data Sheets (MSDS) as required for hazardous goods including radioactive samples, asbestos etc.
Find out more about MSDS on ChemWatch.
About drill core quality and quantity
We require core from a representative hole or holes from drilling programs. In particular, drill core that contains:
important stratigraphic information
representative styles of mineralisation, coal seams or hydrocarbon systems
impressive examples of important geological features (e.g. tectonic structures, fossils, unconformities, intrusive contacts, etc.).
Core selected needs to be intact and suitable for further geological investigation and sampling.
Find out more about the criteria we use to assess your samples to determine whether they duplicate existing material and how we let you know which samples you should lodge.
Contact us
Please contact the Exploration Data Centre if you are unsure about your submission obligations or for more information about how to submit core.
For more information, email Exploration.DataCentre@resources.qld.gov.au.
Last reviewed: 2 Oct 2020

Last updated: 31 May 2021