Hyperspectral image maps
Hyperspectral surveys enable rapid and no impact data collection, and help explorers to evaluate mineral deposit models in areas of interest. They complement satellite imagery, aerial photography, magnetics, radiometrics and gravity surveys. The resulting mineral, chemistry, vegetation and surface texture maps are used to identify areas of alteration and enable mineral emplacement models to be tested.
Hyperspectral data can also relate to mineral occurrences, tenement boundaries, geology and geophysics.
Queensland Next Generation Mineral Mapping project
In 2006–07, hyperspectral surveys were conducted to collect 25,000km2 of data from North Queensland, as part of the Queensland Next Generation Mineral Mapping (NGMM) project. The project involved surveying 25 swaths, 15km wide and of varying lengths, in the Mount Isa, Georgetown, Palmerville Fault and Pajingo regions.
The latest approaches in hyperspectral surveying were used in the project; and CSIRO Exploration and Mining supervised data collection and completed data reduction and interpretation. The project used the airborne HyMap sensor (HyVista Corporation) at a spatial resolution of 4.5m.
HyMap is a passive system that records data on reflected sunlight in the visible to short wavelength infra-red spectrum. The data is then used to map the distribution of selected minerals on the land surface, and provide natural and false colour high-resolution images. Vegetation, dust and pollution can also be mapped using hyperspectral datasets.
The outcomes of the project were released in 2009 in the form of a report and series of over 500 GIS-compatible image maps showing surface mineralogy, chemistry, vegetation and landscape textures. Here is a diagram of the hyperspectral concept.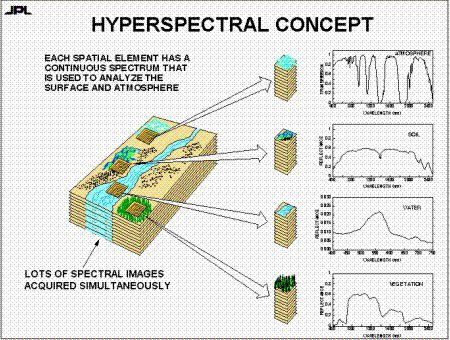 Stage 1: 2006 hyperspectral survey
The survey was focused on the Mount Isa region and covered a total length of approximately 570km and total area of approximately 8,250km2. The following areas were targeted due to their significant known deposits:
Mount Isa (Cu, Pb, Zn)
Century (Zn)
Cannington (Zn, Ag)
Lady Loretta (Zn)
Dugald River (Pb, Zn)
Tick Hill (Au)
Cloncurry (Cu, Au)
Selwyn (Cu)
Mary Kathleen (U).
Summary of swaths:
Termite Range – extends along Termite Range Fault, south-east from Century
Lady Loretta-Dugald River – along seismic line
Pilgrim – extends along major faults from Tick Hill to Dugald River
Selwyn – extensively mineralised area
Cloncurry – along Cloncurry Fault.
Funding for stage 1 of the survey was provided by the Queensland Smart Exploration Program. Stage 1 HyMap geoscience products and associated ground/laboratory data were released in July 2007.
Stage 2: 2007 hyperspectral survey
Stage 2 included further coverage of Mount Isa, as well as other areas to the east with proven mineral endowment. The total length of the survey was approximately 1,117km and the total area of the survey was approximately 16,750km2.
Funding for stage 2 of the project was provided by the Smart Mining Future Prosperity Program. Stage 2 data was released in July 2008.
Here is an image showing the location of airborne HyMap data coverage throughout Queensland, as well as the ASTER image coverage over Mount Isa.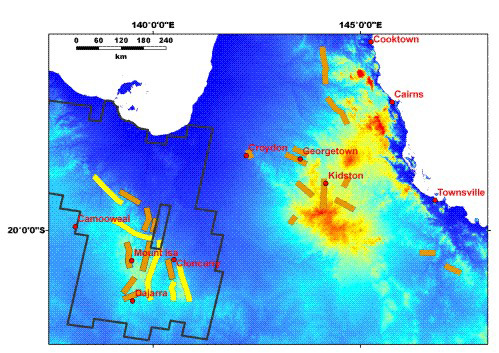 How to get the data
Over 20 image maps are available for each swath, and 14 image maps were produced showing various surface materials. The hyperspectral data was also used to calibrate an ASTER satellite mosaic assembled for the entire Mount Isa region.
The data and maps are available for free download from the CSIRO Data Access Portal.
Hymap images are also available from the GSQ Open Data Portal.
The images are readily loaded into GIS software such as ArcMap and MapInfo, and free plugins are available if needed.
Participants
The CSIRO, HyVista Corporation, Geoscience Australia and James Cook University also participated in the survey.
Last reviewed: 28 Jul 2023

Last updated: 28 Jul 2023