Report bee hive check
To report bee hive check:
take a photo
save the sample
report online.
If you are unable to take a photo, contact us on 13 25 23.
Take a photo
The best photo of suspected varroa mite includes:
the mite against a white background
clear view of the specimen, separated from other material
specimen laying right-side-up (legs down) or upside-down (legs up)—as long as the shape of the mite is clearly visible
something in the photos for size comparison (e.g. cotton bud, coil or pencil).
Placing the mite on the tip of a cotton bud is the preferred method.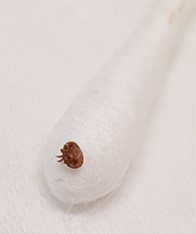 Save the sample
You must save the sample of your suspect varroa mite.
Place any suspect mites into a sealable container or plastic zip-lock bag and keep them in the freezer.
A biosecurity officer will contact you after you report your suspect varroa mite.
Report your results
Use this form to report any checks you have made on your hives, even if you do not find any suspect mites.
We use this information to understand the number and health of beehives in Queensland. This helps us prepare in case varroa mite enters Queensland.
For more information call us on 13 25 23 or send an email to info@daf.qld.gov.au.
Last reviewed: 8 Jul 2022

Last updated: 12 Jul 2022