Horse and cattle - three-piece brands
Coronavirus (COVID-19): Brands application process update
Due to the coronavirus (COVID-19) lockdown there are some changes to the brands application process.
Currently only horse and cattle three-piece brand applications and pig brand applications, are being processed. You should delay lodging applications for symbol brands or earmarks, until after the COVID-19 pandemic.
All brand and earmark applications must be emailed to brands@daf.qld.gov.au. For security reasons, credit card details must not be entered on the application form.
Once the application form is received, licensing and transaction staff will phone applicants to process fee payments via a secured line.
Applications may take up to 80 working days to progress.
Do not post applications as they will not be received by processing staff.
A branding exemption is in place and cattle producers are not required to brand cattle with a live weight in excess of 100kg before sale. The exemption will apply until the end of the COVID-19 pandemic.
All cattle of 100kg or more (live weight) must bear a registered brand before being sold in Queensland.
Three-piece brands
Three-piece brands can be used to establish legal ownership of horses and cattle in Queensland. Symbol brands must be registered in conjunction with three-piece brands. Similarly, cattle earmarks are used to aid identification, but only in conjunction with the three-piece brand it is registered with.
Registering a three-piece brand
To legally use a three-piece brand in Queensland, you must submit an application to register a brand or earmark to the Registrar of Brands with the correct fee.
A horse and cattle three-piece brand is registered for use anywhere in Queensland, but initially for use on a property specified by the applicant. Its use elsewhere in the state depends on the brand not conflicting with brands already in use in that locality.
Three-piece brand series
All three-piece brands with a sideways letter must have the sideways letter permanently affixed to another character in the brand.
All characters in a three-piece brand:
must have a face depth between 30mm and 65mm (face depth refers to the height of the character)
may be imprinted either vertically or horizontally in any of the prescribed positions. When branding vertically, the brand must remain in its original horizontal format and be rotated clockwise to 90 degrees.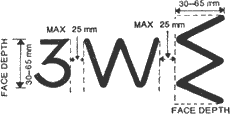 View images and descriptions of the three-piece horse and cattle brand series.
Horse branding positions
The first brander on horses may imprint the registered three-piece brand on any of the following positions:
quarter
shoulder
thigh.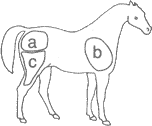 Cattle branding positions
The first brander on cattle may imprint the registered three-piece brand or symbol brand on any of the following positions:
neck
rump
shoulder
thigh
twist (the upper rear portion of the animal's hind leg between the pin bone and the hock).
It is illegal to place a brand on the ribs or cheek of cattle.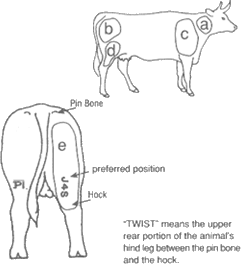 Age numerals and stud references
Stud, age or herd book reference numbers may be imprinted by the person first branding an animal in any of the prescribed positions.
The numerals or references may be imprinted on any of the prescribed positions or below an imprinted brand for both horse and cattle. If it is imprinted below an imprinted brand it must be imprinted at the same angle and directly beneath the previous brand at a distance of between 35mm and 65mm.
Brands return
Owners of a registered brand or registered earmark must submit a brand return form annually in January. Brands may be cancelled if owners do not submit these returns.
Also consider...
Last reviewed: 15 Nov 2016

Last updated: 21 Apr 2020