NDIS-inspired start-up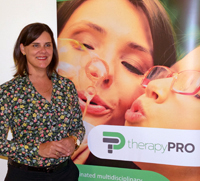 Case study: Therapy Pro
Take 2 people with a vision for a better future under the National Disability Insurance Scheme (NDIS), add business acumen, industry experience, committed professional therapists, plus a lot of hard work and you have Therapy Pro.
The NDIS was the trigger for a small group of passionate individuals to get together and build a bespoke business that would deliver therapy services differently.
With lived experience of disability, the company founders had a clear vision for the type of business they wanted to create. They set about sourcing investment and designing the business from the ground up to operate in an NDIS environment.
Following the successful pitch of their concept in 2016, they sought investment to enter a design phase, developing the critical building blocks for the business: a clinical practice framework, operating model and technology infrastructure.
Therapy Pro is a completely flexible operation, with a team of hand-picked, like-minded therapists delivering the therapy services people need, where they need them and the way they want them.
Investment in the latest web-based and app technology supports a fully mobile and virtual-office operation, minimising administrative overheads.
This flexible business model, combined with quality systems and the Therapy Pro clinical practice framework, allow its therapists to focus on what they do best – providing client-centred services to their clients.
'With our clinical practice framework, online collaboration space and intentional development of a positive culture, we have created a supportive and inspired work environment which lets our therapists focus on delivering services,' said Karen Staal, General Manager.
In May 2017, Therapy Pro opened for business in Townsville as an NDIS-registered provider. It took 3 weeks for their first referral, but it wasn't long before word spread and 6 months later they are providing services to over 100 clients, and have expanded into Toowoomba, Ipswich, Mackay and Melbourne.
Therapy Pro's plan is to expand into Brisbane with the rollout of the Scheme in 2018, and to continue to extend their reach, including telehealth options where suitable.
Therapy Pro's business advice
Immerse yourself in the NDIS – it's vital to understand how the Scheme works, key referral mechanisms and how to do business within the NDIS environment.
You need to invest – the right systems and expertise supports service delivery and allows the focus to be on delivering quality contemporary therapy.
Be prepared for change – the NDIS is a new and significant change in the way people with disability receive services – so it's evolving. Be prepared for change and fluctuations across the board.
Keep flexible – business growth needs to be measured and in response to demand.
Find and keep good staff – for Therapy Pro, hand-picking great staff that share our organisation's client-centred philosophy was number one.
Also consider...
Last reviewed: 16 Jul 2019

Last updated: 11 Jun 2020