Research and development priorities for minerals in Queensland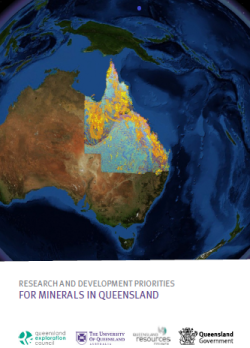 Queensland benefits from some of the world's most vibrant and productive mining research and development (R&D).
To support further innovation, we have released an industry-led analysis of the R&D priorities for minerals (excluding coal) in Queensland.
Based on interviews with industry, researchers and government staff, this analysis is an important step towards ensuring that Queensland continues to reap the rewards of its world-class natural resource endowment through innovation.
The R&D statement is a collaboration between The University of Queensland, Queensland Resources Council, Queensland Exploration Council and the Queensland Government.
Research themes
The R&D priorities identify 6 research themes for R&D investment:
Commercial drivers—adapting to and capitalising on the fast pace of change in business and the workforce
Digital transformation—using innovation in artificial intelligence, sensing, control and communication to create a cost efficient, sustainable industry
Finding, mining and extracting—continued innovation to lower costs and improve discovery
Footprint—unlocking mineral production by identifying innovative solutions to environmental, social and governance challenges
New horizons—supplying the minerals needed for the batteries, panels, electric motors and other strategic technologies of the future
Health and safety—continually innovating to ensure the health and safety of the mining workforce.
These research themes are underpinned by a series of short- and medium-term priorities that set out the future direction for R&D efforts for the next decade.
Background to the study
In 2017, the Queensland Government released A strategic blueprint for Queensland's North West Minerals Province, which identified the need for a statement of R&D priorities. This publication was also informed by a study by Neuchatel Partners Queensland minerals research barriers and priorities (PDF, 2.5MB).
Last reviewed: 11 Jun 2020

Last updated: 24 Nov 2020