GSQ reports and publications
To obtain publications, check the GSQ product and service catalogue for product descriptions and ordering information. Most of our publications are available online free of charge and the catalogue has a download link when this is the case.
New releases
Subscribe to GeoServe newsletter to stay up-to-date with our latest product releases. Follow the links to download these publications free from QDEX reports.
Ordering information
Contact us for information on postal delivery costs
Geology of Queensland book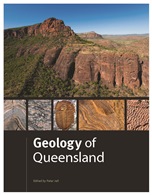 The standard reference on Queensland geology offers a modern, comprehensive analysis of Queensland's geology. It is a vital tool for all geoscientists, exploration professionals, researchers, teachers and students of the physical world.
'Geology of Queensland' is available in hard copy or as a PDF on DVD. View the product catalogue for information on how to purchase.
Queensland Geology map and framework
The 'Queensland Geology 1:2,000,000 map and framework 2012' is also available in hard copy (supplied either flat or folded) and geographic information system (GIS) on DVD. To order, use the Geology of Queensland book and maps order form (PDF, 1.7MB).
Resources and investment publications
Download a range of publications and maps about Queensland's mineral and coal resources and petroleum and energy resources from our website.
Geoscience series
All our series are now available online free of charge. Use QDEX Reports to access:
Queensland Geology Series
Queensland Minerals and Energy Review Series
Land use evaluation publications
Queensland Geological Record Series
Collaborative Drilling and Industry Initiative reports
Queensland Government Mining Journal
Soil and land resources reports
Annual reports from the Queensland Department of Mines
Geological Survey of Queensland Publication Series
Geological Survey of Queensland Report Series
GSQ Marine Section reports
Historical and archival material
You can search our library catalogue to find older publications on geology and mining. Books can be borrowed from the library through your state, public, university or corporate library.
Last reviewed: 10 Jul 2018

Last updated: 05 Sep 2018