Bigeye bycatch reduction device
The bigeye is a type of bycatch reduction device (BRD). The opening (or horizontal slit) of the bigeye BRDs has the same dimensions as the fisheye BRD. The bigeye opening is held open with floats and weights and is located a set distance from the drawstring.
In the Queensland east coast trawl fishery, BRDs are mandatory for all otter trawl nets and all beam trawl nets. For the full specifications of BRDs, check the fisheries legislation.
Bigeye BRD specifications
Distance of opening from drawstring (A in diagram)
Otter prawn nets: 66 meshes
Beam trawl nets: 80 meshes
Minimum width of opening (B in diagram)
Otter prawn nets: 350mm
Beam trawl net: 230mm
Additional specifications
The opening must be at the top of the net.
During trawling the opening has a weighted forward section and a buoyed rear section with at least two 50mm x 90mm floats attached.
The edges of the opening do not overlap by more than 200mm.
Nothing is allowed to cover any part of the opening during trawling.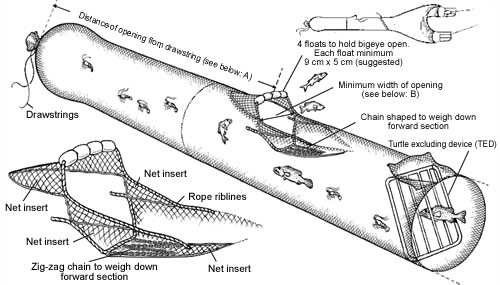 Also consider...
Last reviewed: 27 Jun 2016

Last updated: 15 Dec 2022