Cattle earmarking
Coronavirus (COVID-19): Brands application process update
Due to the coronavirus (COVID-19) lockdown there are some changes to the brands application process.
Currently only horse and cattle three-piece brand applications and pig brand applications, are being processed. You should delay lodging applications for symbol brands or earmarks, until after the COVID-19 pandemic.
All brand and earmark applications must be emailed to brands@daf.qld.gov.au. For security reasons, credit card details must not be entered on the application form.
Once the application form is received, licensing and transaction staff will phone applicants to process fee payments via a secured line.
Applications may take up to 80 working days to progress.
Do not post applications as they will not be received by processing staff.
A branding exemption is in place and cattle producers are not required to brand cattle with a live weight in excess of 100kg before sale. The exemption will apply until the end of the COVID-19 pandemic.
A cattle earmark is an aid to identification, not proof of ownership. It may only be used in conjunction with the three-piece brand with which it is registered. It is an offence under the Brands Act 1915 to earmark without branding.
Purchased cattle with no earmarks may be earmarked provided they are branded with the brand with which the earmark is registered. Earmarking of cattle is not compulsory.
Registered earmark districts
Queensland is divided into the registered earmark districts.
Earmarks are registered for use within a particular district and cannot be used in any other district.
The registered earmarks districts are: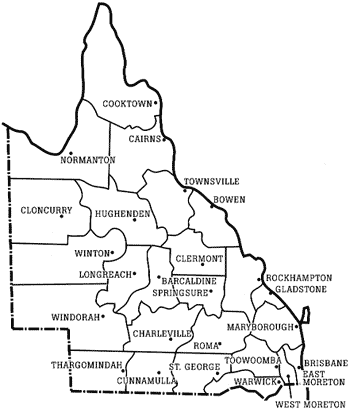 Barcaldine
Bowen
Brisbane
Cairns
Charleville
Clermont
Cloncurry
Cooktown
Cunnamulla
East Moreton
Gladstone
Hughenden
Longreach
Maryborough
Normanton
Rockhampton
Roma
Springsure
St. George
Thargomindah
Toowoomba
Townsville
Warwick
West Moreton
Windorah
Winton.
Note: the following areas are divided into a number of small districts:
Maryborough
Rockhampton
Roma
Toowoomba
Warwick.
Basis of registration
Cattle earmarks are allocated to and registered for use in relation to specific earmark districts, with consideration given to neighbours' earmarks.
An earmark initially registered for use on a property specified by the applicant may be used elsewhere in the same district only if the earmark does not conflict with earmarks already in use at the new address.
If an owner moves into a new earmark district, any existing earmark is automatically cancelled.
Cattle earmarks are referred to by a code of letters and numbers. The letters indicate the shape of the cut or cuts, and the numbers specify where the cut or cuts are to be made (e.g. A1E7).
There are 6 earmark positions: positions 1, 2 and 3 on the off (right) ear, and positions 5, 6 and 7 on the near (left) ear.

Ear tags must be inserted so that they do not interfere with earmarks.
The marks must be of the shape and on the portions of the ear or ears as indicated in the registration certificate. The shape and pattern of cattle earmarks that may be allocated and registered under the Brands Act 1915 are described in the table of cattle earmark codes and shapes.
Earmarking instruments
Earmarks of all descriptions must be made with pliers and not more than one-third of the ear must be removed when making the registered cut or cuts. It is illegal to use any instrument (e.g. a knife) other than earmarking pliers for earmarking.
The registered owner must get the earmarking pliers directly from the manufacturer.
Registering an earmark
To legally use a cattle earmark in Queensland, a person must submit an application for a brand or earmark in the same name(s) as the applicant's three-piece brand to the Registrar of Brands. To establish the correct cattle earmark district, applicants can help by providing the property identification code (PIC).
Cattle earmarks cannot be transferred from one three-piece brand to another. They may be cancelled and re-registered in conjunction with another three-piece brand in the current registered district.
Also consider...
Last reviewed: 15 Nov 2016

Last updated: 21 Apr 2020