Survey marks
Permanent survey marks are important reference marks, so you must not disturb, destroy or remove them. Find out more below.
Survey infrastructure is made up of individual survey marks across the state⁠—physical markers on or in the ground indicating land height, positions and boundaries.
Survey marks provide important information to the community as they are used for surveying property boundaries, road building, construction activity, mapping and other land surveys.
On this page:
Types of survey marks
Permanent survey marks
Permanent survey marks are substantial marks such as a concrete block buried 300mm deep with a brass plaque in the centre, or a mini mark in the kerb.
These marks are important for all types of surveying projects, including housing developments, new road and bridge construction, improving railways and environmental mapping.
They usually have a numeric identifier and are registered in the Department of Resources' Survey Control Database (SCDB).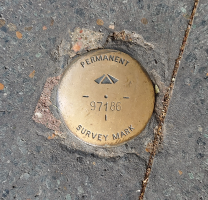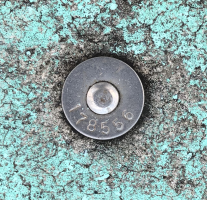 Brass plaque (left), mini mark in kerb (right)
Cadastral survey marks
Cadastral marks are used to mark property boundaries. They are most commonly seen as a white peg.
The peg often has a reference mark, usually an iron pin buried nearby or a nail in the kerb, to help re-establish the corner in the future.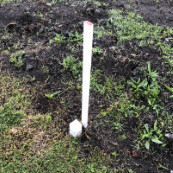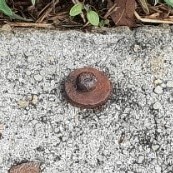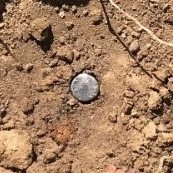 Peg and finder stake (left), nail in kerb (middle), buried iron pin (right)
Interference with survey marks
Permanent survey marks are important reference marks that should never be disturbed. Removing, disturbing or destroying survey marks is costly to the community. For example, it can affect construction projects that depend on accurate positioning and height information and lead to increased costs to landholders if they need to get their boundaries resurveyed.
Survey marks are commonly disturbed by:
construction or development work
footpath and driveway upgrades
utilities and services work
restoration of kerb and channel
vegetation clearing
landscaping
road construction.
If you are conducting this type of work, take care not to interfere with survey marks.
Before starting construction works, consider using a registered cadastral surveyor to carry out a cadastral search of the construction area. This will show whether there's the potential to interfere with survey marks.
If your project is likely to interfere with a survey mark, you should email GeodeticSupport@resources.qld.gov.au so we can undertake an impact assessment before you proceed.
Penalties for interfering with survey marks
Under section 42 of the Survey and Mapping Infrastructure Act 2003 it is an offence to interfere with a survey mark without approval. Doing so may incur a fine of up to $13,345. For permanent survey marks, you may also incur the cost of reinstating the mark.
Accessing survey control information
Under the Queensland Government's open data initiative, we have published survey control information through the Location category globe in the Queensland Globe. Survey control reports of marks are free and include the permanent survey mark plan. Read the information about the survey control functions when you are in the globe.
Alternatively if you know the number of a permanent mark, it is possible to access the Survey Control Report (with sketch) directly from any standard web browser, including on mobile devices. The Survey Control Report URL needs to contain the 6 digit permanent mark number, including any leading zeros. For example, for PM number 1234 the URL is: http://qspatial.information.qld.gov.au/SurveyReport/SCR001234.pdf (PDF, 71KB).
The Survey Control Register file on QSpatial contains all data from current records of the SCDB, as well as ellipsoidal heights and positional uncertainties where available. This data is available for free bulk download.
SCDB can be accessed from most of our business centres. A range of reports are available. Contact us for more information.
Copies of original survey field records can be obtained from the SCDB manager. Email CadastralAdminDataHelp@resources.qld.gov.au.
Submitting survey mark information
New permanent survey marks
Details of new permanent marks must be provided to the Department of Resources on the following form:
For information on how to prepare and lodge permanent survey mark plans, read:
Maintenance of permanent survey marks
Email CadastralAdminDataHelp@resources.qld.gov.au with any updates to existing permanent marks or information about any irregularities observed in the field.
A mark maintenance worksheet is incorporated into the permanent survey mark plan form.
Submitting Global Navigation Satellite System (GNSS) data
Control surveys must comply with the Intergovernmental Committee on Surveying and Mapping (ICSM) standards and practices for control surveys.
For a permanent survey mark to be recognised as a horizontal datum mark in the SCDB, it must be included in the Queensland State Adjustment (known as ANJ). ANJ is an amalgamation of measurements/adjustments from the hierarchy of datum.
For information on how to lodge permanent GNSS data, read:
Last reviewed: 25 Nov 2020

Last updated: 7 Nov 2022