Managing risk in supply chains
By identifying key business activities that could be affected by disruptions to your supply chain, you can prepare a plan of action with a focus on your bottom line.
This resource looks at steps in supply chains, explores possible risks and links to the business continuity plan to manage these risks.
Definition of supply chain
A supply chain is a network of individuals and companies that produce and deliver a product or service to a consumer.
Supply chains are important to keep shelves stocked and items available for trade. Any disruption in the supply chain can cause problems in providing goods and services to your customers on time and within budget.
To manage risk in supply chains:
identify supply chain risks within your business
identify what is within your control or outside your control
understand the impact on your business if there are disruptions
develop a risk management plan to account for disruptions.
Why it's important to check your supply chain
When one element of your supply chain fails to deliver their product or service to the next business in the chain, the entire supply chain can be disrupted.
This can result in:
delays
reduced revenues
inflated costs
disruptions to your production or continuity of service
damaged business reputation and customer confidence from delays, quality or ethical issues.
A business with a resilient and responsive supply chain has a competitive advantage over other businesses that do not.
Identify your supply chain
There are many steps and processes involved in developing goods and services.
A supply chain may include the following:
individuals, businesses, and organisations that make products, components or raw materials (e.g. beekeepers produce honey which may be marketed by a beekeeper's cooperative to a larger company)
businesses that produce packaging materials (e.g. boxes, bottles)
logistics and/or transport businesses that transport the raw or manufactured products (e.g. tankers, goods trucks)
businesses that supply IT software (e.g. online shopping portals, customer relationship databases, logistics, project management, telephones)
businesses that provide marketing services (e.g. design, labels, online and traditional marketing)
businesses that fill packaging materials (e.g. bottling lines)
businesses that purchase, distribute, or sell the product (e.g. wholesalers, distributors, retail, and online retail shops).
Preparing for supply chain disruptions
The best way to manage a supply chain disruption is to prepare for it in advance.
A business impact analysis helps prepare your business for the impact of a supply chain disruption.
A business impact analysis:
identifies your key business processes, procedures and standards
examines key activities and resources you need to operate your business
assesses how these would be affected by supply chain interruptions highlighted in your risk management plan.
A business impact analysis is part of a business continuity plan.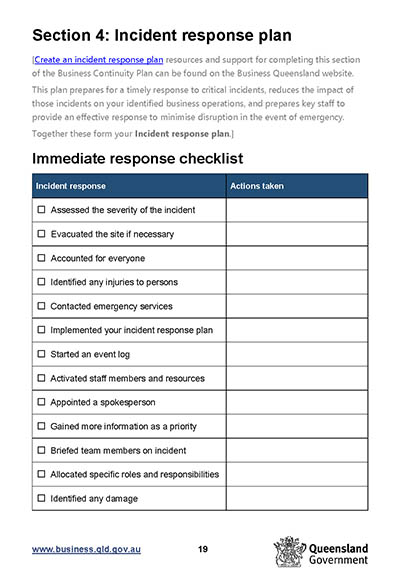 Download the business continuity plan template
This template includes 2 sections:
risk management plan
business impact analysis.
Use this page to consider your risk of a supply chain disruption, then complete the 2 sections of the template.
Download the business continuity planning template.
The level of impact on your business would depend on the severity and length of the disruption, but significant disruptions are likely to have a financial impact.
Completing a business impact analysis allows you to consider how a supply chain disruption would affect business activities, including financial management, and help to identify the ways you might prevent, or minimise the impact.
Case study: Key asset failure
If vital machinery breaks down and disrupts production, the impacts on various business activities could include the need to:
focus resources on fixing the problem
reduce or reallocate staff from the production area
contact suppliers and let them know
contact your downstream customers
manage your inventory of raw materials and finished goods
review orders and purchasing
review the impact on sales, revenue and cashflow
increase marketing activities to improve customer relations and business reputation.
Risks around your supply chain are either within your own control, or outside your control. Developing and reviewing your risk management and analysing the business impact as part of your business continuity plan ensures your business is prepared for any potential business disruptions.
Types of supply chain risks and potential mitigation
While supply chain risk may seem straightforward, it can be easy to overlook potential risk areas. There may be several ways to prepare for a supplier disruption but often, sourcing an alternate supplier may be the best solution.
Consider these types of supply chain risks and their possible risk preparation or reduction strategies.
Human resources
Train internal staff in different roles as part of a development program
Recruit staff with the skills you need (or have potential to learn the role or activity)
Meet with the supplier and establish relationship with new key account holder
Assess the change and consider exploring new supplier options
Source alternative local suppliers
Consider overseas suppliers if the risk is widespread and ongoing
Product, and packaging materials
Use alternative packaging
Increase sales in other product lines
Seek and engage an alternative supplier
Source local or national suppliers
Logistics delays
Source alternative logistics from other countries or states
Increase order volumes and local stock holding
Check if covered by business insurance
Decrease in standards
Check all products supplied
Raise issues with suppliers and clarify standards
Increase quality assurance checks
Source potential alternative suppliers
Insolvency and bankruptcy
Communicate with customers
Explore the opportunity to buy any remaining inventory from the supplier
Seek alternative suppliers
Manufacturing risks
Check and service equipment regularly
Check with other businesses to borrow or lease equipment
Consider purchasing backup equipment for critical tasks
Consider changing the way something is made as a short term workaround
With any supplier-related risks, knowing your suppliers and reducing reliance on a sole provider can help to reduce impacts on your business.
Last reviewed: 24 Nov 2022

Last updated: 24 Nov 2022