Recover from natural disasters
Use these resources to guide your planning ahead of a natural disaster. They are designed to help you rebuild your business after a natural disaster.
Focus areas for recovery after a disaster
The main focus areas to begin recovery are:
business viability
business premises
equipment
records
business financials
staff and suppliers.
Develop a recovery plan as part of your business continuity plan to help your business recover and resume trading more quickly.
Refer to your existing business continuity plan or use our template to help you develop a plan now.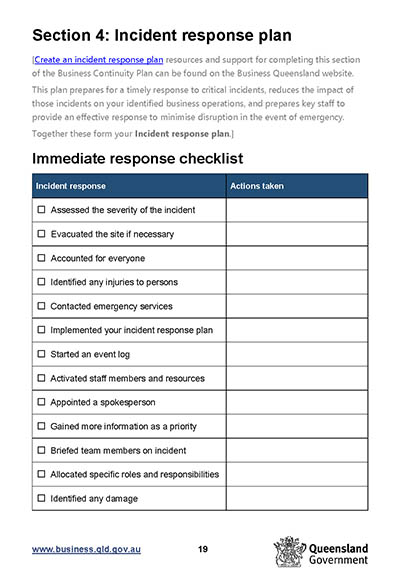 Download the business continuity plan template
This template includes a recovery plan section.
Use this page to consider how you rebuild from a natural disaster and complete these sections of the template.
Download the business continuity planning template.
Consider the viability of your business after a natural disaster
While many businesses reopen and operate successfully after a natural disaster, some do not.
Business viability is important to check as the costs involved in rebuilding plus potential impacts on customers and suppliers may prevent the business from achieving future profits and cash flow.
You may decide not to continue with the business in its current form or, if the business is insolvent, continue to trade.
Other options may include:
converting your business model to online only
merging with another business or taking on an equity partner who is able to provide continuity and cash flow
outsourcing operational functions for a period of time to one or more businesses away from the disaster area
Support after a natural disaster
Find resources and information on:
Re-establishing business premises, equipment and records
Depending on your preparation and the impact of the natural disaster, you may be able to reopen after a short time.
Reopening strategies depend on the nature of the disaster (e.g. a flood affecting part of the premises and equipment versus a bush fire burning down the business premises entirely).
Reopening will also depend on customers' and suppliers' ability to access your business, or your ability to reach and deliver to them.
You may need to establish your business at other premises for a period of time. This could include:
at your home
at a co-working space or serviced office
leasing another premises
sub leasing part of a warehouse from another business.
Find industry information about recovering from natural disasters and emergencies on the Small business disaster hub, including:
The following information and resources can help you assess business premises and replace records and equipment.
Rebuilding your financial position
The natural disaster will most likely affect your cash flow as your ability to trade normally has been interrupted.
If your balance sheet indicates you have a current ratio of more than 1, you should be in a position to pay what you currently owe, but you may need to sell some assets, which would take time.
Contact your accountant to:
identify how long you can continue to pay staff and creditors before your business would be trading insolvently
identify if or when you would need to lay off staff
develop a plan to pay creditors on payment plans where possible
develop a communication plan.
Additional advice and assistance
Once you have dealt with the immediate situation and sourced assistance from advisers and support services, you may need to take action on your business model, products, and services. For example, you may need to:
Supporting and rebuilding staffing
Supporting and rebuilding your staff is just as important as any other part of the recovery process.
Staff will need support as they work with you during any clean up and recovery stages
Support can be given to staff by:
providing additional communication
referral to support services such as Beyond Blue and Lifeline
involve them in team meetings to work together for business product and service redesign.
If staff need to vary work arrangements, such as working from home or a different location, additional communication support should be provided with regular online meetings.
Need new staff?
These resources help you:
find and hire the right people to help your business succeed
meet your legal obligations.
Find out more about hiring and recruitment.
Communicating
Communicating with your suppliers and customers will help rebuild your business so you can begin operating as soon as possible.
Key areas to communicate with your customers and suppliers are:
when you will re-open
where you are operating from now
when you can take new orders
when you will be able to start deliveries again.
Communication methods could include:
your business social media sites
your business website
community social media groups/forums
specific disaster groups on social media within your region
signs at your physical premises
regional radio
local papers
community notice board
school and community groups.
Also consider...
Last reviewed: 24 Nov 2022

Last updated: 28 Feb 2023