Prepare your business for natural disasters
The effects of natural disasters can be devastating. Having plans in place and being prepared can assist in a quicker recovery, reduced disruption and loss of profits.
Ways to plan and prepare for a disaster
There are ways you can plan and prepare your business to minimise the effects of a disaster and keep you, staff and customers safe, including:
developing policies and procedures for emergency situations
ensuring staff are up to date with procedures
conducting regular emergency training within the business
developing emergency kits.
By preparing processes to manage natural disasters in advance, you and your staff will know what to do if one occurs, limiting the stress and panic.
Preparing your business
Include preparing for a natural disaster when conducting your business continuity planning to help manage and recover when a disaster occurs.
Refer to your existing business continuity plan or use the template below to help you develop a plan now.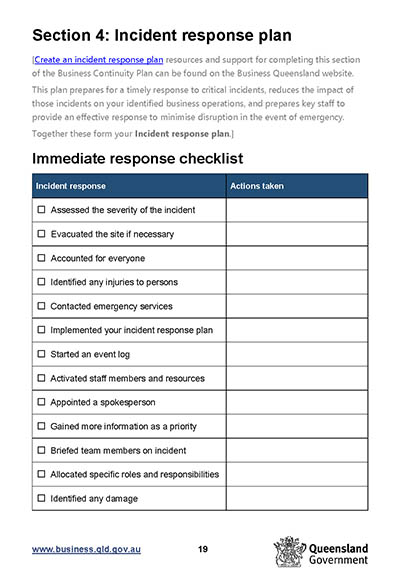 Download the business continuity plan template
This template includes sections on:
incident response plan
recovery plan.
Use this page to consider your risk of a natural disaster and complete these sections of the template.
Download the business continuity planning template.
Types of natural disasters
Read about how to prepare, respond, recover and communicate for these types of natural disasters:
Preparing an emergency kit
Emergency kits are an ideal way to prepare your business for disasters and should be stored in a shared area where staff can access them. You can also store important business documents on shared networks or online cloud-based systems.
Your emergency kit could include the following key business documents and items.
Your business continuity plan containing your:

risk management plan
incident plan
recovery plan.

Business documents including:

a list of suppliers and current arrangements
documents of utilities and contracts
staff and stakeholders' details
insurance and legal documents
financial records
maintenance reports
equipment reports
contact list for recovery support
insurance details and claims
marketing strategy
reopening strategy

An emergency plan with:

emergency contact details
emergency procedures
evacuation maps
emergency roles and responsibilities.

Physical items may include:

first aid kit – check contents are current and complete
personal protective equipment (PPE) (e.g. masks, gloves, safety glasses, hand antiseptic, disinfectant)
radio – portable battery powered
torches and batteries
spare batteries, power boards and power banks
USB memory sticks or flash drives
computer storage (e.g. portable hard drives/data storage, backup tapes, discs)
spare keys and security codes
mobile phone with credit available plus chargers (portable and car)
marker pens (for temporary signs) and general stationery
hazard tape
utility knife
plastic sheeting
waterproof bags and containers for valuables
tie down straps and rope.
Evacuating your business
Knowing when to evacuate can be a hard decision. Emergency alerts, warnings and contacts can assist you to make a judgment before, during, and after a natural disaster, as agencies provide updates and alerts on current events and emerging situations.
Premises preparation ahead of evacuation
Each natural disaster may need a different evacuation procedure but preparing for each situation will reduce confusion during the emergency.
As a business owner, you will need to prepare your premises and develop evacuation procedures. Consider these points in your planning.
Are the evacuation alarms installed and working?
Is the emergency lighting installed and working?
Have wardens and staff responsibilities been designated?
Where is the assembly area?
Are there procedures for people with disabilities and people who do not speak English?
Are there procedures for primary and secondary evacuation routes?
Are there procedures to shut down operations/equipment?
Is there anything to add to your emergency kit on the day (e.g. cash, easily movable valuable equipment, keys for buildings, vehicles and equipment)?
Practice drills can help you assess any areas that need improvement and provide staff with confidence in the process.
Review your business continuity plan regularly to help you to improve any areas of concern.
Also consider...
Last reviewed: 24 Nov 2022

Last updated: 1 Mar 2023