Government controls and legislation for crab fisheries
Licensing
There are 430 commercial crabbing licences that allow the take of blue swimmer crab and mud crabs and about 200 spanner crab licences in Queensland. Less than 70 of the 200 spanner crab licences hold quota to access the fishery. Commercial crab fishers comply with the following licensing laws:
No new licences or symbols are issued for existing fisheries. To enter a fishery, you must first obtain the correct licence and symbol(s) from an existing operator. An exception exists for the C2 fishery symbol; however, a new C2 symbol will only be issued where a fisher has acquired spanner crab quota from another quota holder.
Licences can be transferred from person to person and fishery symbols can be transferred from 1 licence to another licence.
Monitoring and reporting
Commercial fishers have a legal obligation to report information about their fishing activities in a compulsory daily logbook. All crab fishers must contribute data about their day's catch, the location fished, the gear used and any interactions with species of conservation interest. Fisheries Queensland uses this data to assess and monitor the status of individual species and fisheries in Queensland.
Regulations
The following laws apply to Queensland's commercial crab fisheries. For more detailed information, refer to the Fisheries Regulation 2008.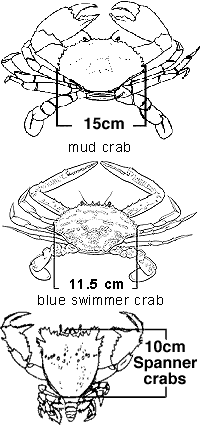 Mud crab fishery
Blue swimmer crab fishery
Spanner crab fishery
Other relevant legislation
Last reviewed: 3 Jan 2017

Last updated: 9 Jul 2021