Using the watercourse identification map
Installation
Follow our instructions to install Queensland Globe on your Mac or PC.
Open Queensland Globe. From the Queensland Globe opening banner, in the Category globes section, select the link to the Inland waters globe.
Click on the Add globe button.
Click on Inland waters globe information layer in the left pane. On the Inland waters banner page, move to the Layers section.
You can select the Watercourse identification map layer (see below) to show watercourses, drainage features, and downstream limits.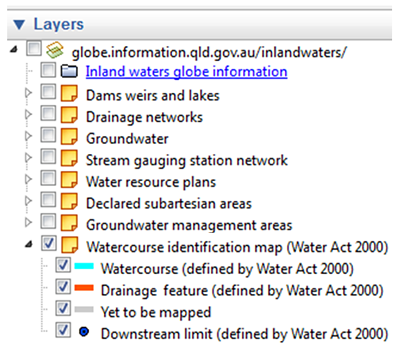 Tip for using the map
Due to the complexity and the amount of data, it is recommended to zoom into an area before turning on detail layers.
Map features
The map shows the extent of watercourses, drainage features and downstream limits.
The map can be used to indicate authorisation requirements for proposed activities in watercourses or drainage features. Read how the map features relate to authorisations.
The map will be updated on a monthly basis to record additional determinations made on the extent of watercourses and drainage features.
Mapping for lakes and springs may also be added in later updates.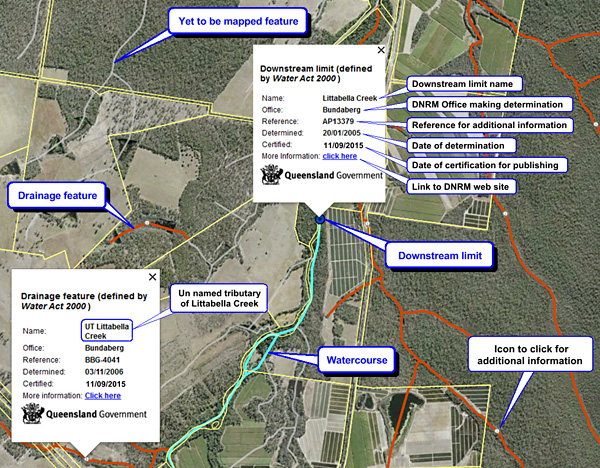 Data
Note that the map only shows the longitudinal extent of watercourses and drainage features. The map cannot be used to demarcate the lateral extent (or width) of a watercourse or drainage feature.
The spatial data for the map can be accessed via the Data/metadata link on the Inland waters globe banner. Alternatively, the data can be accessed via the Open Data Portal.
Accuracy and data quality
Whilst all care has been taken to ensure that the mapped features match as closely as possible the location of those features on the underlying aerial imagery, there may be inaccuracies that appear due to the limitations of the mapping methodology. If you note errors or inaccuracies, further advice should be sought from staff at your regional DNRM office or call 13 QGOV (13 74 68).
The line work for watercourses and drainage features shown in the watercourse identification map are generally generated from line work that exists in the State Watercourse Lines data set. In some cases, additional line work that does not appear in the State Watercourse Lines data set has been created to represent the extent of determined watercourse and drainage feature – e.g. for minor headwater drainage features.
Note that in some parts of the state, including far north Queensland, the watercourse lines data set used as the basis for the watercourse identification map does not show all existing watercourses or drainage features existing in the landscape. Please note that the absence of line work in the 'yet to be mapped' layer does not mean that a feature is necessarily a drainage feature.
Please contact your regional DNRM office if the feature on your land is not shown as either 'watercourse', 'drainage feature', or 'yet to be mapped' on the watercourse identification map.
Last reviewed: 23 Aug 2016

Last updated: 25 May 2017