Closing a business
Whatever your reason for closing your business, there are many considerations you have to address before 'closing the doors'. There's also a lot you can do to make the process less stressful and get better outcomes.
Make mental wellbeing a priority
Closing down your business is not just about meeting the practical and legal requirements. It can be a confronting experience for you, your family and your employees. Some small business owners may even feel they're disappointing their customers and community.
As the business owner, you'll have to:
deal with your feelings about leaving everything you've built up, as well as your staff's concerns and uncertainties
juggle the workload and pressures of still operating the business, while preparing it for closure.
To do this, try to give yourself the benefit of a strong support network:
a business adviser (a lawyer, accountant or financial counsellor)
your friends and family
mental health support services (see below).
Also try to:
get a clear understanding of the reasons you're closing your business
have a well-defined idea of what you'll do after you've closed the business.
As an employer, you need to monitor and provide support to your employees during this stressful time. Be aware of any possible health and wellbeing issues they might experience because of:
job insecurity
transitioning through the sale of the business
change in owners.
You can:
Voluntarily closing a business
There are broadly 2 situations in which you would voluntarily close your business.
You no longer want to run the business
You may have decided, for example, to retire, that running a small business is too stressful, or that it's not the right business for you. You also:
don't want to, or can't, sell the business
have no-one to take it over.
You're likely to have time to plan your closure. This will help you to:
close efficiently
meet your legal obligations
save money
take away maximum profits.
Your business isn't doing well
You might be closing your business because:
it's not covering its overheads and operating costs
you can't sustain the operating costs while trying to sell it.
Your best option might be to sell some or all of your business assets, pay off your debts and keep whatever remains.
This may prevent you from becoming insolvent or bankrupt, and help you to leave the business without any long-lasting impacts.
Find help to manage your debt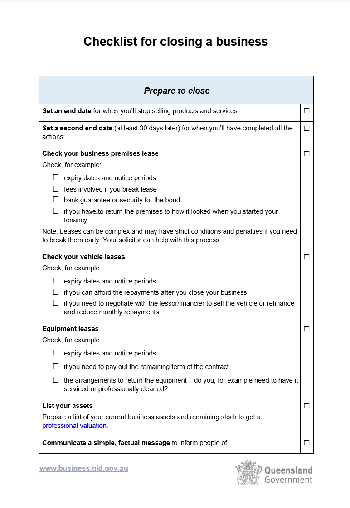 Closing-down checklist
There are many things you need to address before closing your business. It's important to have an exit strategy. Your accountant, solicitor or business adviser will be able to help you with this.
Our closing-down checklist (DOCX, 115KB) can also provide you with direction during this difficult period. It gives a:
timeline for completing activities
list of legal requirements and other considerations.
Legal and financial obligations when closing a business
Depending on your legal structure, all or some of the following points might apply to you when you voluntarily close your business.
Talk to advisers
Talk to your accountant, solicitor and business adviser about legal requirements for closing your business. It is important to pay for these services to ensure you do it correctly and with the minimum number of negative consequences as possible.
Free services provided by financial counsellors can also assist you in this process.
Deregistering or winding up a solvent company
There are 2 ways to close your company if it's not insolvent:
You can apply to ASIC to voluntarily deregister your company. Your company must first meet certain legal requirements.
Shareholders and directors of the company may decide to voluntarily wind up the company.
Consider talking to a business adviser to determine which option is appropriate for your company.
Learn more about deregistering or winding up a solvent company.
Dissolving a partnership
Partnership agreements are legally binding contracts that set out the rules for a business operating under this type of business structure. Partnership agreements usually specify:
conditions under which the partnership will be terminated
how assets will be distributed among partners.
Many small business owners don't develop formal documented partnership agreements when they start a business together. This can make it difficult to agree on what each party is entitled to when the partnership is terminated.
Get legal advice before winding up a partnership.
Insolvency and bankruptcy
Insolvency occurs when your business cannot pay its debts, which can result in your business closing down.
Different insolvency procedures apply to individuals and companies.
Seek expert advice if you're considering bankruptcy or insolvency. There are serious consequences that can have an impact on your life for many years.
Send the right message
Conflicting or confusing stories about why you're closing your business can:
damage your reputation
destroy goodwill
make it harder to negotiate with creditors.
To streamline the process and make it as positive and stress-free as possible:
make sure all stakeholders receive the same, truthful information
keep your messaging short and factual.
Last reviewed: 24 Oct 2022

Last updated: 24 Oct 2022