Identifying fire ants
Fire ant treatment season is underway across South East Queensland in both eradication and targeted suppression areas.
If you have received a notice indicating that your property is scheduled for treatment, ensure you complete a property information form and alert us to any potential issues or information we need to be aware of prior to treatment.
Changes have been made to the Biosecurity Regulation 2016 to help in the fight against fire ants. If you move materials that may carry fire ants, it is important that you familiarise yourself with the changes in fire ant zones and requirements.
Fire ants are dangerous, imported pests that could spread to large areas of Australia. Fire ants could severely damage the environment, our outdoor lifestyle, and the agriculture and tourism industries. They inflict a painful, fiery sting, which can, in rare cases, cause a severe acute allergic reaction (anaphylaxis).
First detected in the Brisbane area in February 2001, these South American ants pose a serious social, economic and environmental threat. Fire ants are a category 1 restricted pest under the Biosecurity Act 2014, so landholders must report suspected sightings of fire ants on their property to Biosecurity Queensland or they may face heavy fines.
The National Red Imported Fire Ant Eradication Program has made significant progress in eradicating fire ants from Australia. Surveillance is ongoing, and treatment and containment measures are continuing in areas of South East Queensland where the ants have been detected.
It is essential that you remain vigilant and report any suspected sightings to the National Red Imported Fire Ant Eradication Program on 13 25 23.
This guide will help you identify and effectively respond to fire ants.
Fire ants (Solenopsis invicta) are quite small (2-6mm) and come in an unusual variety of sizes within one nest. Their heads and bodies are coppery-brown and their abdomens are darker. They are aggressive, particularly near the nest, and can inflict painful stings.
It's vital that you're able to identify fire ants on your property. For help with identification, see: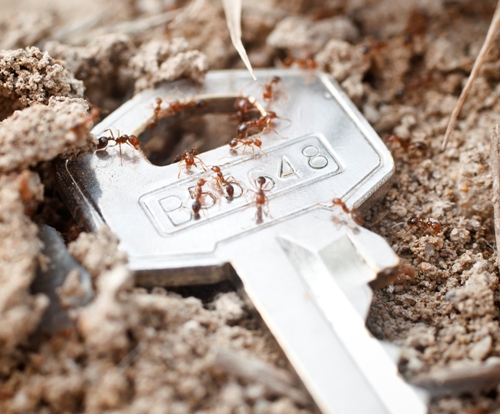 Fire ant nests
Fire ant nests have no obvious entry or exit holes.
Nests often appear as dome-shaped mounds, but these mounds are not always easily identifiable. They can be up to 40cm high, but may also be flat and look like a small patch of disturbed soil. They are usually found in open areas such as lawns and pastures, and along roadsides and unused cropland.
Nests can also be found next to or under other objects on the ground, such as timber, logs, rocks, pavers or bricks. Look near pots or any areas of disturbed ground as well as:
in pot plants on the ground
in stores of topsoil, mulch and potting mixes
under landscape materials (e.g. logs, stones)
under timber or pallets on the ground
adjacent to buildings and other structures
in untidy or overgrown areas
near areas of permanent water (e.g. the banks of dams, rivers, ponds, aquaculture containers)
tufts of grass in open areas, where the soil is built up around the tufts.
Also consider...
Last reviewed: 22 Aug 2018

Last updated: 29 Oct 2019