Managing flexible working arrangements
With the right balance, flexible working arrangements can be positive for your business and your employees. As a small business owner or manager, you may also have legal obligations to provide flexible working arrangements.
Principles for successful flexible working arrangements
Allow all employees to apply for flexible working arrangements.
Develop a flexible work policy so the application and decision-making process is clear and consistent.
Balance staff needs with business needs.
Ensure employees are working to the conditions set out under their modern award.
Ensure all employees have equal access to training, development and promotional opportunities, regardless of their flexible work arrangement.
Manage staff performance based on output, rather than working patterns.
Get the support of business owners, management, and other employees.
Benefits of offering flexible working arrangements to all employees
Attracting and keeping good employees is essential for all businesses. For many employees, flexible work is a highly desirable workplace benefit. They want to work with employers who are willing to negotiate about where, when and how they work.
By making your workplace more flexible for all employees, you can attract and retain more quality employees across all age groups and genders.
Flexible working arrangements are linked to:
increased productivity
increased employee wellbeing and happiness
lower levels of absenteeism
greater job satisfaction and engagement
retaining corporate knowledge and skills
reduced recruitment and hiring costs
having more women in the workplace and in leadership roles.
Legal obligations

regarding flexible working arrangements

As a small business owner, you must understand your legal obligations regarding flexible work:
Some employees may be eligible to request flexible working arrangements under the National Employment Standards (NES). Read more about your obligation regarding flexible working arrangements under NES.
Employees covered by an award also have some extra rights when asking for flexible working arrangements. Before you refuse a request for flexible work, check the award or agreement that covers your business.
Types

of flexible work

The flexible work options available to you and your employees depend on:
the employee
the role they perform
your business
your industry.
Flexible working arrangements can be for a specified period or on an ongoing basis. Flexible working arrangements usually involve changing:
hours of work (e.g. start and finish times)
patterns of work (e.g. job sharing)
locations of work (e.g. working from home).
The types of flexible work arrangements include:
flexible hours of work and rostering—changing start or finish times, or splitting shifts
compressed working weeks—working extra hours over fewer days to allow for a shorter working week or fortnight
time in lieu—working approved overtime and being compensated by paid time off from work instead of being paid for working overtime. It can include flexitime, where employees can 'bank' extra hours they work in exchange for time off
telecommuting—working away from the official workplace (usually at home)
part-time and casual work—working

less than full-time and being paid on a pro-rata (proportionate) basis for that work
days or hours that suit the employee with no ongoing commitment for work from the employer

job sharing—a full-time job shared by 2 or more employees who are paid on a pro-rata basis for the part of the job they complete
purchased leave—allows an employee to use part of their annual salary to buy extra leave
unpaid leave—leave for unplanned events where the employee is not paid
gradual increase or decrease in work hours—for example, before or after parental leave, or before retirement
flexibility around breaks and when they are taken.
Action item: Consider your flexible working arrangements
There's a suitable flexible-work option for most roles. Think of the flexible work options mentioned above and how these can be applied so all employees can participate, rather than only a select few.
What options do you already use in your business?
Can you think of any other flexible work options that would work in your business?
Schedule a meeting with your employees to brainstorm and discuss flexible work options for your workplace.
Consider trialing a few flexible work arrangements to see what works in your business.
Remember that employees' needs and expectations will be different and what works for one employee might not work for the next.
Managing

flexible work applications

Having a flexible work policy for your business will:
show that you support flexibility in your workplace
ensure employees know how to apply and what would be expected of them
ensure a consistent and fair process by outlining how applications will be considered.
Your flexible work policy needs to clearly define:
the 2 different types of flexible work arrangements, namely those

all employees can apply for
only employees entitled under the NES can apply for

the obligations of the employer and the employee regarding requests submitted under the NES.
A flexible working arrangement policy should outline:
what a flexible working arrangement is
who can apply for a flexible working arrangement
flexible work options
how to apply for a flexible working arrangement, including where to access the application form
how the flexible work application will be considered and who will make the decision
how the employee will be informed of the decision
how the flexible working arrangement will be documented
when and how the flexible working arrangement will be managed and reviewed.
Read more about policies and procedures.
All applications should:
be in writing
explain the details of flexible working arrangement they want
outline why the employee is seeking the arrangement
highlight potential issues the employee has identified
state the timeframe being applied for.
You can use our working-from-home application template (see below) as a guide.
When assessing and responding to applications:
be consistent
follow the process outlined in your flexible work policy (which should be in accordance with any legal requirements).
An open and transparent process is especially important if you're dealing with multiple applications.
Read more about responding to a request for flexible working arrangements.
Review arrangements on a regular basis, for example, every 3, 6, 12 months. This is your opportunity to provide feedback to the employee about how the arrangement is working and make changes, if necessary.
Let the employee know up front that:
you'll be monitoring the agreement and their performance
there will be regular reviews to ensure the flexible working arrangement is working effectively for all parties.
As the employee settles into the flexible working agreement, you may notice things that work well, as well as challenges that arise. Keep a record of these so you can discuss them with the employee when you review the agreement.
As with all other employees, employees on flexible working agreements should have regular performance management reviews. As part of the performance review, you can discuss the agreement, including:
areas that are working well
areas that need improvement
any changes that may need to be made.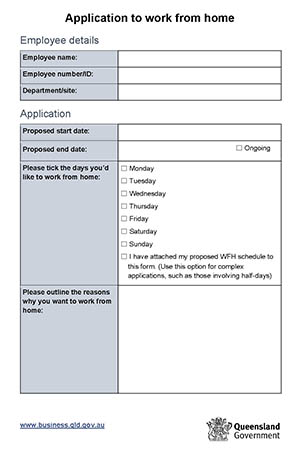 Working-from-home application template
Once viewed as an occasional workplace perk, working-from-home (WFH) arrangements has now become the norm for many businesses and employees.
If you think this flexible work option could work for your business, use our application to work from home form to help you get started. You can adapt this to your business needs and branding.
Flexible working arrangement checklist
Use this checklist to guide your response to a request for a flexible working arrangement.
Before starting a flexible working arrangement, make sure you have

the necessary documentation (e.g. health and safety checks if working from home)
a record of any conditions of the agreement, including start and finish dates.

Clearly outline the terms and conditions of the arrangement

set clear guidelines and expectations
set up a work schedule outlining the days and hours of work
define expected work outcomes
where relevant, ask employees to

include their office hours in email signatures
use an out-of-office email notification that explains when the employee will be back and who can be contacted in the meantime
transfer phones to a mobile phone, a landline at an alternative work location (if telecommuting), or a colleague who has agreed to take calls
ensure any shared documentation (paper or electronic) is filed correctly so that other employees can access it when required
communicate work hours with key clients and discuss any delays this may cause.

Plan and schedule a review of the arrangement.
Last reviewed: 28 Sep 2022

Last updated: 28 Sep 2022