The Queensland Government is now in caretaker mode until after the state election. Minimal updates will be made to this site until after the election results are declared.
Corky passionflower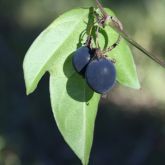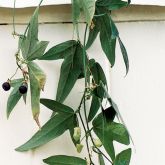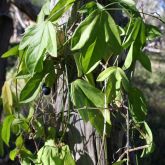 Native to South America, corky passionflower is an aggressive perennial vine with many long tendrils.
In forests, it can out-compete ground cover species and climb and smother shrubs and small trees. Corky passionflower is recorded as a weed in a number of countries throughout the Pacific region.
Corky passionflower is not a prohibited or restricted invasive plant under the Biosecurity Act 2014.
Scientific name
Passiflora suberosa
Description
Perennial vine with extensive, twining tendrils.
Stems are purplish.
Leaves are dark green, either 3-lobed or entire in shape.
Leaves are 4-8cm long, with leaf stalk up to 2.5cm long.
Flowers are up to 2.5cm wide, in solitary arrangement in leaf axils.
Flowers have yellow-green sepals, with purple inner fringe instead of petals.
Fruits are purple.
Habitat
Prefers open forest and disturbed land.
Distribution
Naturalised in north and eastern Queensland.
Life cycle
Flowering occurs throughout most of year.
Impacts
Environmental
Smothers ground cover species, shrubs and small trees.
Control
Physical control
Hand-pull when soil is moist.
Remove above-ground vegetative parts with a brush hook or similar tool.
Herbicide control
Herbicides can be effective.
See the Corky passionflower fact sheet (PDF, 668KB) for herbicide control and application rates.
Biological control
No known biological control agents.
Legal requirements
Corky passionflower is not a prohibited or restricted invasive plant under the Biosecurity Act 2014. However, by law, everyone has a general biosecurity obligation (GBO) to take reasonable and practical steps to minimise the risks associated with invasive plants and animals under their control.
Local governments must have a biosecurity plan that covers invasive plants and animals in their area. This plan may include actions to be taken on certain species. Some of these actions may be required under local laws. Contact your local government for more information.
Further information
Last reviewed: 30 Jan 2020

Last updated: 30 Jan 2020